Breathe Easy: Elevate Your Indoor Air Quality
The air you breathe within the comfort of your own home matters. Indoor air quality plays a significant role in your family's well-being, and we're here to help you take control of it. With our range of indoor air quality solutions, you can ensure that your home is a sanctuary of clean, pure air.
Air Scrubber: Pure Air, Powered by UV Technology
Did you know that the air inside your home can be 2-5 times dirtier than the air outside, according to the EPA? That's a concerning fact, but here's the good news – our Air Scrubber technology can effectively remove 99% of indoor air contamination. This remarkable addition to your HVAC system acts as an extra layer of protection, improving the quality of the air you and your family breathe. And the best part? You don't need any bulkier equipment; it's a seamless add-on. By harnessing the power of UV light technology, Air Scrubbers clean your indoor air, ensuring it's as fresh as a breath of outdoor air.
Ducting: The Hidden Key to Efficiency
Your home's ductwork, often out of sight, plays a pivotal role in the efficiency of your HVAC system. Ducts are responsible for carrying air to your HVAC system and then distributing temperature-treated air throughout your home. New or properly sealed ductwork can save you up to 20% on energy costs and slow down the aging of your system. It's a smart investment in both comfort and savings.
Duct Cleaning: Protect Your Health and HVAC System
The air that circulates through your ducts is the very air you and your loved ones breathe. Unfortunately, indoor air isn't pristine; it often contains contaminants like pet dander, dust, volatile chemicals, carbon monoxide, and pesticides. These unwelcome guests find their way into your HVAC unit, accumulate within the ductwork, and re-enter your living space. Breathing in such pollutants can lead to coughs, sneezing, bronchial congestion, and other respiratory issues. Regular duct cleaning is your shield against these harmful particles. It enhances indoor air quality and safeguards your family's health.
Duct cleaning does more than just purify your air; it also extends the life of your HVAC system and boosts its efficiency. When you choose Utah's Best Home Pros for duct cleaning, our technicians go the extra mile to check for other issues within the ductwork. Fixing minor problems today prevents more significant damage in the future.
Elevate your indoor air quality in UT with Utah's Best Home Pros. We're here to ensure your family breathes in the cleanest, healthiest air possible. Contact us to learn more and schedule your indoor air quality services today.
Why We Have Repeat Customers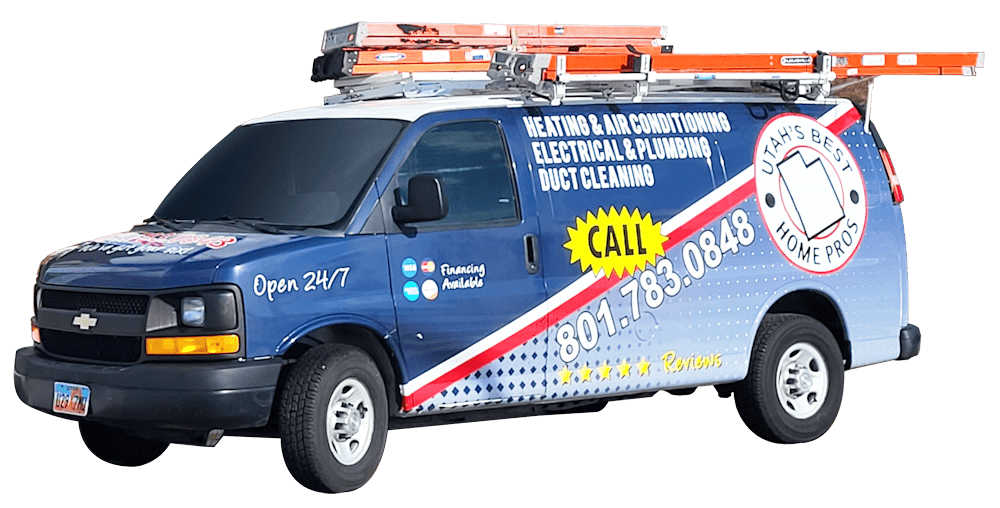 These guys were truly great! They were professional and affordable! My AC was old and finally broke down and they offered a great price for a new unit. While I waited for my appointment they provided me with two portable AC units for the meantime. Installation went super smooth and they were very clean about their work and also showed me how use and maintain my new unit! I recommend Utah's Best Home Pros!
Why Choose Utah's Best
One Stop Shop – There is no need to hire several companies across the Wasatch Front to handle different jobs. We offer several services in-house, so you don't have to search around for contractors. From HVAC and electrical to plumbing and general contracting, our team will get it done.
Education Over Intimidation – We give homeowners options and educate them on each solution. Then the final decision is yours. We will never use intimidation or scare tactics to get you to go for a solution that is not in your best interest.
Professionalism – We are in the business to help people. Our professionalism, reliability, and dependability win over homeowners time and time again. We treat your home with respect by wearing booties over our shoes, using drop cloths, and vacuuming our way out of your home.
Get Proper Care of Your Air Conditioner
Ultimately, the decision to replace your air conditioner depends on a variety of factors, including the age and condition of your unit, your energy bills, and the frequency and cost of repairs.
It's a good idea to consult with a licensed HVAC contractor to help you make an informed decision about what air conditioner repair you need or whether it's time to replace your unit. If you have questions about your unit, give us a call today.