Why We Have Repeat Customers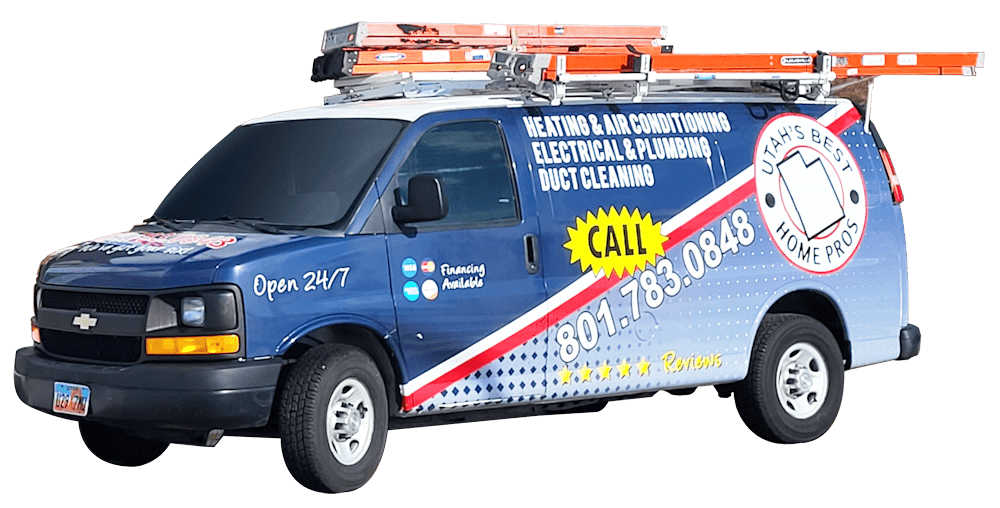 These guys were truly great! They were professional and affordable! My AC was old and finally broke down and they offered a great price for a new unit. While I waited for my appointment they provided me with two portable AC units for the meantime. Installation went super smooth and they were very clean about their work and also showed me how use and maintain my new unit! I recommend Utah's Best Home Pros!
Utah is synonymous with all things winter. The snow, the ice, and the skiing all require a powerful furnace to keep you and your family warm during the long Rocky Mountain winters.
If your furnace isn't able to keep up with the freezing temperatures, it makes for a very long and uncomfortable winter season. Stay cozy with furnace repair before Jack Frost comes knocking on the door.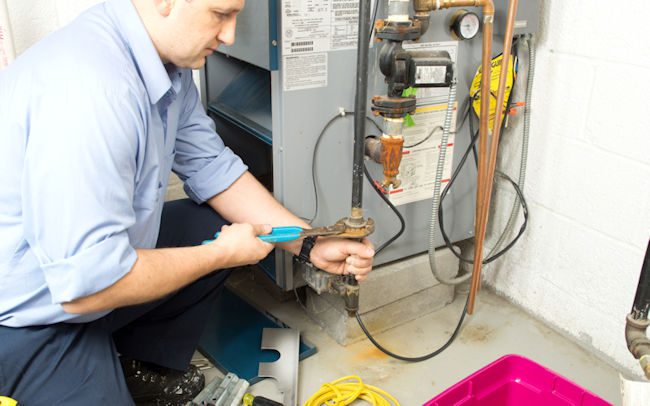 5 Signs You Need To Repair Your Furnace
These signs may be evident anytime during the winter season and are usually clear indicators that it's time to call and have your furnace looked at by a certified technician.
Gas Leaks – Gas leaks are known to be dangerous and life-threatening. Therefore, whenever you smell gas inside your house, the first thing is to turn off the furnace and get out of your home. Call us as soon as possible after you have left the home.
Unpleasant Smells – If you notice an unpleasant odor coming from your furnace while it's running, it is time to have your furnace serviced and repaired. The smell of natural gas is distinct and dangerous. Other smells may resemble dust, burning, or rotten odors. These unpleasant odors aren't usually dangerous but are signs of poor combustion, which needs to be repaired by a professional.
Yellow Or Orange Flame In Your Furnace – A yellow or orange flame is a clear sign that your furnace is not functioning properly. It is very likely that you have a combustion air problem, not having enough combustion air in your home can potentially be dangerous and lead to other problems in your equipment.
Occurrence of Steam or Puddles – Look for puddles, steam, or water dripping on the walls where your furnace is placed. There might be an issue with the valve or some kind of leak that needs to be checked by a professional.
Strange Noises – Irregular hums, banging, groans, and rattles are not normal noises that should come from your unit, meaning you need to call for furnace repair.
4 Signs You Need to Replace Your Furnace
While most malfunctions on your furnace can be repaired, there are some situations where it's time to invest in a new unit. If you're concerned that it may be time to upgrade your unit, here are a few signs to look for.
1. Frequent Furnace Repairs – If your furnace is constantly giving you fits, it may be more cost-effective to replace it. Although a furnace repair seems less expensive initially, if you have to pay for multiple repairs or fix it annually, it might cost more in the long run than purchasing a new furnace.
2. Increased Energy Bills – During winter, it's important to monitor your monthly energy bills because the furnace is one of the biggest energy consumers in modern homes.
If you notice a significant increase in your energy bills compared to last year, and the rates haven't gone up, it could be a sign that your furnace needs attention. In some cases, a furnace repair can increase efficiency levels, but if it doesn't, the increased operating costs may justify installing a new furnace.
3. Old Furnace – Compared to newer models, older furnaces tend to consume more energy and require frequent and costly repairs. It's important to know when your furnace is too old and should be replaced.
While the advertised life expectancy of a furnace is typically 20 to 30 years, it's recommended to start considering replacement once it reaches 10 or 15 years. Even if your furnace still functions after 20 years, it could end up costing you more in terms of repair bills or higher energy use during that time.
4. Humidity Issues – Although Utah is a desert, there is still moisture in the air, which can cause problems in your home. High humidity levels can lead to the growth of mold, causing illness to your family and risking the structure of your home. On the other hand, low humidity levels can lead to dry skin, respiratory issues, and static shocks.
Newer furnaces are better equipped to handle humidity concerns than older models. If your home becomes too dry in the colder months, your furnace may be a significant contributor to poor air quality. Upgrading to a newer furnace, especially one with a built-in humidifier, could help to address this issue.
5 Benefits of Having a Functioning Furnace
In addition to providing a warm and comfortable environment through the long winter months, there are several benefits you'll enjoy from having a functioning furnace.
High-Energy Efficiency

Furnaces are highly efficient heating systems for homes, with their efficiency measured by the AFUE rating. The AFUE, which stands for "Annual Fuel Utilization Efficiency," indicates the amount of heat a furnace delivers relative to the amount of fuel consumed. The higher the AFUE percentage, the more efficient the furnace is. A typical furnace has an AFUE rating of 78-84%, but some models can achieve even higher ratings.

Affordable Heating System

Compared to other heating options, furnaces are generally a more affordable investment. Boilers, which are another type of home heating system, typically cost more than furnaces. Fireplaces, which are often used as a supplemental heating source, can cost even more than boilers, sometimes exceeding $5,500. Despite the possibility of natural gas prices rising, furnaces are likely to remain a more cost-effective option for heating homes when compared to these alternatives.

Improved indoor air quality

One advantage of a furnace is that it allows you to enhance the indoor air quality in your home. As a forced air system that utilizes ductwork, it is possible to integrate an air purifier, dehumidifier, humidifier, or air filtration system directly into your furnace. This is a more effective solution than using small, individual conditioning systems such as portable room humidifiers, as it enables you to condition all the air in your house simultaneously.

Long Lifespan

Regular maintenance can indeed extend the lifespan of a furnace, with some models lasting up to 25 years or even 40 years if they are particularly durable. This longevity is a notable advantage over other heating options that may require more frequent repairs or replacements.

Fast Heating System

Furnaces are designed to heat your home quickly and efficiently. Unlike other heating systems like boilers or radiant heating, which rely on heat to radiate slowly and warm up your home gradually, furnaces produce hot air that can be quickly distributed throughout your home using ductwork. This allows your home to reach a comfortable temperature in a matter of minutes.
FAQs about Furnace Repair
Why Us
One Stop Shop – We serve homeowners in Utah by providing several services in hours so you don't have to search and hire separate contractors. This one-stop-shop approach provides you with everything you need in one reliable team.
Education Over Intimidation – We believe that you always know what is best for your home. Our main goal is to educate you on all of the options available to you and encourage you to make the final decision. We will never use intimidation or scare tactics to get you to go for a solution that may not be in your best interest.
Professionalism – We are in the business to help people. Our core values of professionalism, reliability, and dependability have built a clientele who partner with us time and time again.
Check Your Furnace Today
Furnace repair in Utah is a crucial aspect of homeownership. Regular maintenance and timely repairs ensure that your furnace operates efficiently and effectively to keep you and your family comfortable during the cold winter months.
If you suspect any issues with your furnace, it is important to address them promptly to avoid further damage or safety hazards.
Whether you need minor furnace repairs or a complete furnace replacement, it is always best to seek the assistance of a professional HVAC contractor to ensure the job is done correctly and safely. With the right care and attention, your furnace can provide reliable heating for years to come. Give us a call today!