Are you ready to transform your home with stunning lighting fixtures or other electrical additions? At Utah's Best Home Pros, we specialize in expert electrical fixture installation services that can enhance your home's aesthetics, functionality, and overall value. Here's what you need to know:
What is Electrical Fixture Installation?
Electrical fixture installation involves the professional mounting and connection of various electrical fixtures and devices within your home. Our skilled electricians ensure that these installations are not only visually appealing but also in full compliance with safety and performance standards.
When Is Electrical Fixture Installation Required?
You may need electrical fixture installation services in various scenarios, such as when you're renovating your home, upgrading lighting for energy efficiency, enhancing interior or exterior aesthetics, or simply making functional improvements.
How Much Does Electrical Fixture Installation Cost?
The cost of electrical fixture installation varies depending on the type and number of fixtures you'd like to install. Our services are competitively priced, ensuring you receive excellent value for your investment.
Benefits of Electrical Fixture Installation
Enhanced Aesthetics: New fixtures can breathe life into your home's interior and exterior, creating the ambiance you desire.
Energy Efficiency: Upgrading to energy-efficient fixtures can reduce your utility bills and lower your carbon footprint.
Improved Functionality: Whether it's adding more outlets, installing ceiling fans, or setting up smart lighting, fixture installations can make your living spaces more functional.
Safety and Compliance: Our professional installation ensures that all fixtures meet safety standards and are compliant with local electrical codes.
What Types of Fixtures Can We Install?
Utah's Best Home Pros offers a wide range of electrical fixture installation services, including:
Lighting Fixtures: Chandeliers, pendant lights, recessed lighting, and more.
Ceiling Fans: Stay cool and comfortable with expertly installed ceiling fans.
Outdoor Lighting: Illuminate your outdoor spaces for safety and aesthetics.
Smart Home Devices: Transform your home into a smart haven with advanced electrical installations.
We take pride in our attention to detail, quality workmanship, and commitment to customer satisfaction. Our electricians will work with you to bring your vision to life, ensuring that your electrical fixtures not only look great but also function flawlessly.
When you choose Utah's Best Home Pros for electrical fixture installation, you're choosing expertise, reliability, and a brighter, more beautiful home. Contact us today to discuss your installation needs and schedule a service that will transform your living space.
Why We Have Repeat Customers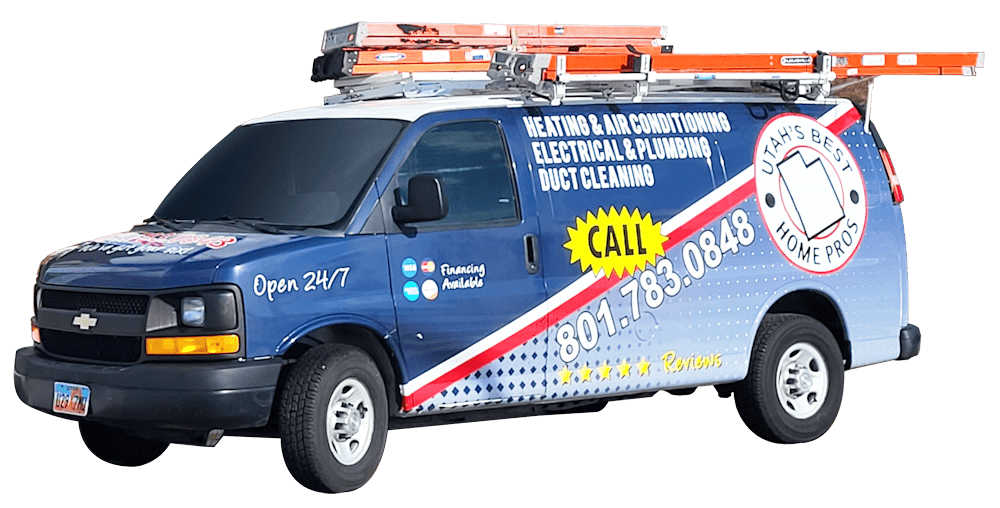 These guys were truly great! They were professional and affordable! My AC was old and finally broke down and they offered a great price for a new unit. While I waited for my appointment they provided me with two portable AC units for the meantime. Installation went super smooth and they were very clean about their work and also showed me how use and maintain my new unit! I recommend Utah's Best Home Pros!
Why Choose Utah's Best
One Stop Shop – There is no need to hire several companies across the Wasatch Front to handle different jobs. We offer several services in-house, so you don't have to search around for contractors. From HVAC and electrical to plumbing and general contracting, our team will get it done.
Education Over Intimidation – We give homeowners options and educate them on each solution. Then the final decision is yours. We will never use intimidation or scare tactics to get you to go for a solution that is not in your best interest.
Professionalism – We are in the business to help people. Our professionalism, reliability, and dependability win over homeowners time and time again. We treat your home with respect by wearing booties over our shoes, using drop cloths, and vacuuming our way out of your home.
Get Proper Care of Your Air Conditioner
Ultimately, the decision to replace your air conditioner depends on a variety of factors, including the age and condition of your unit, your energy bills, and the frequency and cost of repairs.
It's a good idea to consult with a licensed HVAC contractor to help you make an informed decision about what air conditioner repair you need or whether it's time to replace your unit. If you have questions about your unit, give us a call today.