Furnace Maintenance: Your Key to Year-Round Comfort
Your furnace is the unsung hero of your home, working tirelessly to keep you warm during the chilly seasons. To ensure it continues to do so efficiently and without interruption, regular furnace maintenance is essential. Also referred to as heating maintenance, a furnace tune-up encompasses a thorough inspection and cleaning of your heating system, guaranteeing that each component is operating at its peak performance.
Our Furnace Maintenance Service is designed to provide you with a host of benefits, including:
Improved Efficiency
By ensuring that your furnace is clean and in perfect working condition, we help it run at maximum efficiency. This translates to more heat for less energy, ultimately saving you on utility bills.
Enhanced Comfort
A well-maintained furnace distributes heat more evenly throughout your home, eliminating cold spots and ensuring a cozy living environment.
Preventative Care
Regular maintenance helps us catch potential issues before they escalate into costly repairs. This proactive approach keeps your furnace running smoothly, extending its lifespan.
Safety Assurance
We meticulously inspect all safety controls and components, reducing the risk of hazardous malfunctions that could put your home at risk.
Long-Term Savings
Investing in furnace maintenance is an investment in your wallet. You'll avoid the expenses that come with emergency repairs, and your furnace will last longer, reducing the need for a premature replacement.
Peace of Mind
Knowing that your furnace has been thoroughly checked and cleaned brings peace of mind. You can confidently rely on it to keep you warm all season long.
Utah Furnace Tune-Up Checklist
A well-maintained furnace is the key to ensuring your home stays warm and cozy when the temperature drops. Our thorough 26-point furnace tune-up is designed to not only keep your heating system running efficiently but also to prevent future costly repairs. Here's what you can expect from our furnace maintenance service including comprehensive reviews of:
Safety Control & Wiring Check

We start by checking all safety controls and wire connections to ensure your furnace operates without a hitch.

Burner Inspection

Our experts clean and inspect burners and the burner compartment for optimal performance.

Heat Exchanger Visual Inspection

We visually inspect the heat exchanger to identify any potential issues.

Thermocouple & Flame Sensor Check

We clean and check the thermocouple and flame sensor for reliability.

 Ignitor, Spark Electrode, and Pilot Inspection

We ensure the ignitor, spark electrode, and pilot are clean and in perfect working condition.

 Filter Evaluation

We check your filters and provide recommendations for replacements if necessary.

Blower Maintenance

Our team removes and cleans the blower, testing its capacitor for peak performance.

Damper Adjustment

We adjust dampers to optimize airflow within your system.

Condensate Drains & Traps

Checking and flushing condensate drains and traps is crucial to prevent blockages.

Venting System Inspection

We inspect your venting system for leaks and remove any debris that might hinder its function.

Service Access Clearances Check

We ensure that your system complies with required service access clearances to combustibles.

Combustion Air Requirements

Our technicians check for adequate combustion air requirements.

Lubrication

We lubricate all moving parts to reduce friction and wear.

Ignition & Flame Monitoring

We cycle the furnace and monitor ignition and flame to guarantee a smooth start.

Manifold Pressure Check

Our experts check and record manifold pressure for optimal performance.

Blower Speed Adjustment

We check the temperature rise and adjust the blower speed as required.

CO Testing

Safety is paramount. We conduct a CO test to ensure the circulating air is safe.

Fuel Line Inspection

We check the fuel line for leaks at the appliance.

Gas Pipe Pressure Test

Our technicians verify the presence of a gas pipe pressure test tag.

Manufacturer's Installation Review

We check for compliance with the manufacturer's installation guidelines per the operation manual.

Clean-Up

We wipe down the furnace and clean the area around it for a tidy finish.

Utility Cost & Equipment Life Expectancy Comparison

We discuss utility costs and equipment life expectancy with homeowners for informed decisions.

Smoke Detector Battery Replacement

We offer replacement batteries for smoke detectors, ensuring your safety.

CO Alarm & Blue Flame Certification

We check for CO alarms and ensure blue flame certification (CSA 6.10-01) compliance.

Heat Exchanger Inspection

We meticulously inspect the heat exchanger for rust and cracks.
Finally, we review and document the results and provide recommendations for your furnace's optimal performance. Choose our Utah heating & furnace tune-up service to keep your home comfortably warm and your furnace running efficiently throughout the colder months.
Why We Have Repeat Customers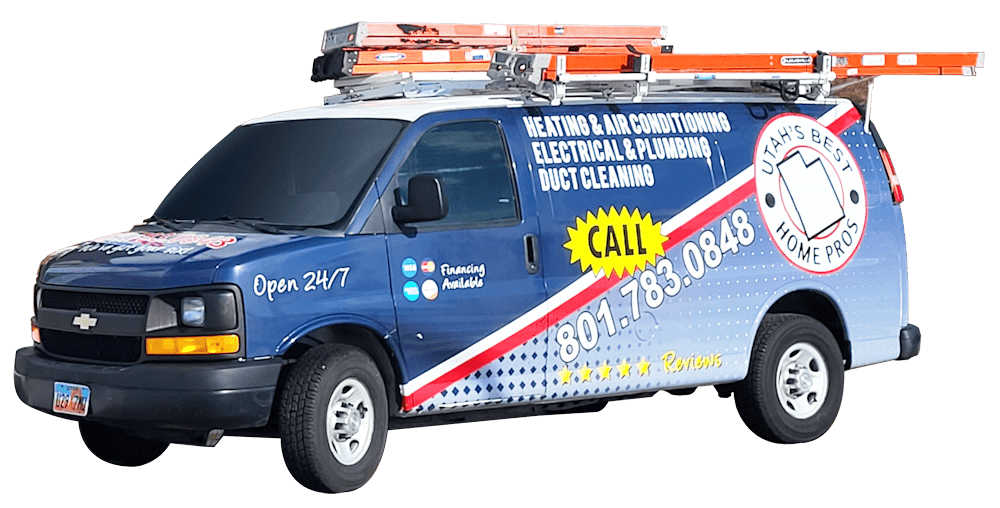 These guys were truly great! They were professional and affordable! My AC was old and finally broke down and they offered a great price for a new unit. While I waited for my appointment they provided me with two portable AC units for the meantime. Installation went super smooth and they were very clean about their work and also showed me how use and maintain my new unit! I recommend Utah's Best Home Pros!
Why Choose Utah's Best
One Stop Shop – There is no need to hire several companies across the Wasatch Front to handle different jobs. We offer several services in-house, so you don't have to search around for contractors. From HVAC and electrical to plumbing and general contracting, our team will get it done.
Education Over Intimidation – We give homeowners options and educate them on each solution. Then the final decision is yours. We will never use intimidation or scare tactics to get you to go for a solution that is not in your best interest.
Professionalism – We are in the business to help people. Our professionalism, reliability, and dependability win over homeowners time and time again. We treat your home with respect by wearing booties over our shoes, using drop cloths, and vacuuming our way out of your home.
Get Proper Care of Your Air Conditioner
Ultimately, the decision to replace your air conditioner depends on a variety of factors, including the age and condition of your unit, your energy bills, and the frequency and cost of repairs.
It's a good idea to consult with a licensed HVAC contractor to help you make an informed decision about what air conditioner repair you need or whether it's time to replace your unit. If you have questions about your unit, give us a call today.