Expert AC Tune-Up Services for Optimal Cooling Efficiency
At Utah's Best Home Pros, we understand the importance of keeping your home cool and comfortable, especially during the scorching summer months. That's why we offer top-tier AC Tune-Up services that can make a world of difference in your life. An AC Tune-Up is not just a routine maintenance task; it's your key to significant savings, prolonged system lifespan, and uninterrupted comfort. Here's how our services can transform your summer:
Cut Cooling Bills Significantly
When you schedule an AC Tune-Up with us, you're making a smart financial move. Our expert technicians will fine-tune your air conditioning system to ensure it operates at peak efficiency. This means your system will cool your home more effectively while consuming less energy. Say goodbye to those high energy bills and hello to more money in your pocket.
Extend the Life of Your System
The last thing you want during the hot summer is your AC system breaking down. Regular AC Tune-Ups can dramatically extend the lifespan of your equipment, ensuring you get the most out of your investment. With our professional touch, your AC system will run smoothly, year after year, keeping your home comfortably cool.
Reduce the Risk of Costly Repairs
We all know that unexpected AC repairs can be a major headache and financial burden. Our comprehensive AC Tune-Up is designed to catch and address minor issues before they escalate into costly problems. By investing in preventive maintenance, you can avoid those inconvenient and wallet-draining repair bills.
Stay Cool During Peak Summer
The peak of summer can be unforgiving, but with our AC Tune-Up, you'll be well-prepared. We ensure your system is in its best shape, ready to tackle the hottest days without a hiccup. No more sweaty, uncomfortable nights – just pure, uninterrupted comfort.
Ready to experience the benefits of an AC Tune-Up? Don't let the summer heat get the best of you. Contact us today to schedule your AC Tune-Up and ensure a cool, cost-effective, and trouble-free summer.
Air Conditioning Tune-Up: Your System Deserves the Best
Keeping your home comfortably cool is a top priority, and that's where our comprehensive AC Tune-Up service shines. We leave no stone unturned to ensure your system operates at its absolute best. Here's a quick look at what we do:
Amperage Draw Check (Compressor and Condenser Fan)

We carefully assess the amperage draw to ensure your system runs efficiently, saving you on energy costs.

Voltage Monitoring

We monitor your system's voltage during operation, a vital aspect of its health and efficiency.

 Contactor Inspection

We inspect the contactor, a key component, to identify and address potential issues before they escalate.

 Condenser Care

We clean and maintain the condenser, allowing it to function optimally and cooling your home efficiently.

Capacitor Assessment

We check the capacitor amperage draw, a critical part of your AC system's performance.

Wiring Connections Check

We meticulously inspect and tighten wiring connections for safety and system longevity.

Hard Start Testing

We conduct hard start testing to ensure your system starts smoothly and efficiently.

Condenser Alignment

We level the condenser for optimal performance and longevity.

Leak Detection

We use a meticulous soap test to detect and address any valve leakage issues.

Refrigerant Pressure Testing

We test your refrigerant pressures to maintain optimal cooling efficiency.

Sub-Cool and Super-Heat Measurement

We measure sub-cool and super-heat for precise cooling performance.

Indoor Coil Inspection

We inspect the indoor coil to ensure it's in top-notch condition.

Drain Line Maintenance

We clear drain lines to prevent any potential blockages and water damage.

Condensate Pump Testing

We test condensate pumps to ensure they're functioning as they should.

Blower Motor Assessment

We read and clean the blower motor, an essential component for even airflow.

Ductwork Inspection

We inspect the ductwork to ensure optimal airflow throughout your home.

Furnace/Air Handler Wiring Check

We inspect the wiring in your furnace or air handler for safety and functionality.

Circuit Board Examination

We check the circuit board for any burn marks or issues.

Thermostat Optimization

We program the thermostat to meet your specific comfort needs.

Review and Recommendations

We review the results of our comprehensive tune-up and provide recommendations to enhance your system's performance.
Choose our Utah AC tune-up service to ensure your home stays comfortably cool, your energy bills stay in check, and your system runs efficiently.
Why We Have Repeat Customers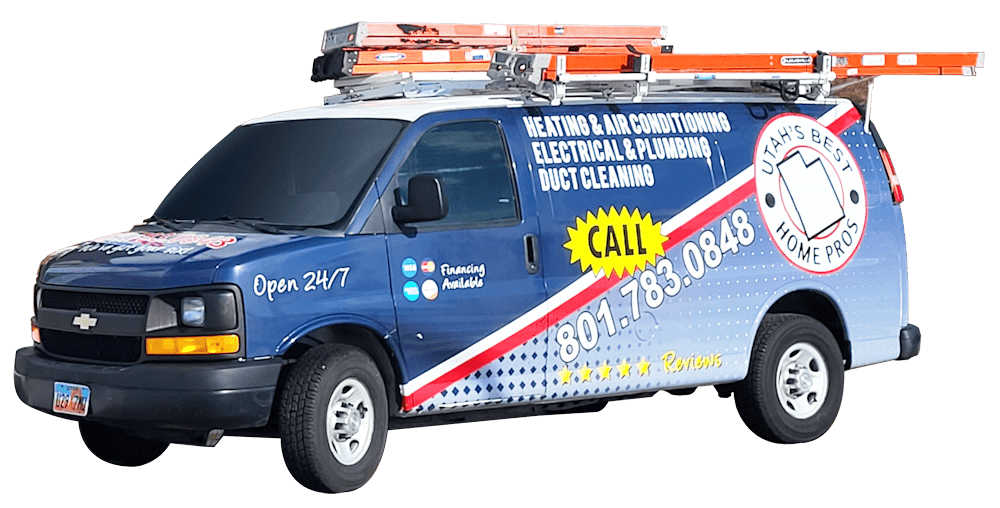 These guys were truly great! They were professional and affordable! My AC was old and finally broke down and they offered a great price for a new unit. While I waited for my appointment they provided me with two portable AC units for the meantime. Installation went super smooth and they were very clean about their work and also showed me how use and maintain my new unit! I recommend Utah's Best Home Pros!
Why Choose Utah's Best
One Stop Shop – There is no need to hire several companies across the Wasatch Front to handle different jobs. We offer several services in-house, so you don't have to search around for contractors. From HVAC and electrical to plumbing and general contracting, our team will get it done.
Education Over Intimidation – We give homeowners options and educate them on each solution. Then the final decision is yours. We will never use intimidation or scare tactics to get you to go for a solution that is not in your best interest.
Professionalism – We are in the business to help people. Our professionalism, reliability, and dependability win over homeowners time and time again. We treat your home with respect by wearing booties over our shoes, using drop cloths, and vacuuming our way out of your home.
Get Proper Care of Your Air Conditioner
Ultimately, the decision to replace your air conditioner depends on a variety of factors, including the age and condition of your unit, your energy bills, and the frequency and cost of repairs.
It's a good idea to consult with a licensed HVAC contractor to help you make an informed decision about what air conditioner repair you need or whether it's time to replace your unit. If you have questions about your unit, give us a call today.